SUSTAINSPRINKLE frequently asked questions
The vast majority of irrigation systems can only handle one moisture sensor and it must be strategically placed as an average for whole property, even when most properties have varying water demands.
Moisture sensor data is less accurate due to location bias, for example, different areas of the property can experience differing levels of sunlight and elevation which will skew results.
We use GPS coordinates to pin-point at a specific location and use dense grid network to determine if it rained in your area.
We use data from surrounding grids depending on the exact location in the grid.

If the location is in middle of the cell, we use data from one grid cell.
If the location is in edge of two grid cells, we use average data from both the grid cells.
If the location is at center of 4 grids, we use average data of 4 grid cells.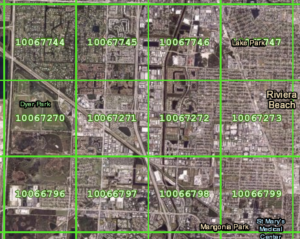 An example for normal irrigation for a Fixed Schedule is 13 times a month. As per shown in image below, based on the actual rain data, we change schedule and irrigate only 4 times a month.
Calculation: 
How to Custom Program Digital Clock?
It automatically runs an extra watering cycle every two weeks if the system detects a drought condition in your area based on rain data.
How do I increase the amount of water as my yard looks dry?
How does the "Set it and forget It" system work?
This is based on Sustainable Sprinkler's patented irrigation technology that wirelessly gets daily updates of actual and forecasted rainfall. It will only run when the landscaping requires supplemental irrigation. If the client wants to add custom programming for exceptional situations such as more water, less water, plantings, sod or chemical applications, the system will dependably run and sustain the landscaping with "little or no" additional human intervention – hence "set it and forget it".
How do we know if the system is operating properly?
Our system keeps a constant communication with the irrigation controller and generates the following alerts if there is:
1. Lost communication
2. Program change
3. Leakage in the pipe (if leak detection add-on is installed)
4. Custom Program did not run as scheduled
We interface with 99% of controllers including Analog (mechanical) and Digital. As of now, the system cannot work with SMTE and Decoder systems, but we are constantly evolving our systems and these will be compatible soon.
Can you check where the leak is in the zone or common pipe?
Yes, if you have the optional leak detection add-on, we will know if there is a leak in a specific zone and the system will send an alert.
How to view water savings and alerts?
How to add user to account?
How to reset your password?
How to view your irrigation calendar?